"Where, O death, is your victory? Where, O death, is your sting?"
Misty clouds are trying to block the afternoon sunlight, but now and then the sun finds a way to poke through the clouds. Signs of spring are working their way through the muddy mush of the ground's saturated surface. By all accounts, winter is over, and warmer days will soon arrive.
For now, however, the cloudy gloom is a match for my grieving spirit.
My family is anticipating a soon to arrive phone call with news of my brother's death. Each time the phone rings or a text message arrives, a new shot of adrenalin surges through your body. Waiting is always hard, but waiting for death to arrive is excruciating. In the face of anticipation, Paul's rhetorical question becomes personal. "Where is death's sting?" you ask. "Lemme tell you, Paul. It's right here. It's on the face of a brokenhearted family, and in the eyes of a widow. It's on the tear-stained cheeks of a child."
Death stings.
Paul, of course, understood that. Paul understood that death is a natural phenomenon. His words to the Corinthians are couched in an apocalyptic-sized hope that does not gloss over the brutal realities of death. Any interpretation of Paul which ignores this is wrong. Paul is not suggesting that death is not hard, painful or real. But he does remind us death does not have the last word.
The great promise of the Christian community – the promise which keeps me coming back week after week – is that we do not endure these moments of pain alone. I am grateful beyond words for the prayer and support of our church community, and the broader circles of friends and companions. Beyond that, the gift of Christ's presence brings me a feeling of peace even in my pain.
We get ourselves in trouble by saying things like, "Well, he's in a better place," or "Be strong." While I believe and am comforted by the knowledge that God's arms surround my brother as he passes from our arms, I'd much prefer that he be making plans for a family dinner. The better place for him is in the kitchen or teaching music in his studio, or holding hands with his beloved wife, or making silly faces at his grandchildren.
Likewise, there is a time for tears and sadness. Too often, regardless of what was intended, saying "be strong" can sound like "ignore your feelings."
My hope is built on something much stronger than sentimental aphorisms. So did Paul, whose experience of God's grace in Jesus Christ changed him forever. The promise of Christ's defeat over death is not a promise that life will be all roses and sunshine. But it is a promise which offers hope, even in sadness. It is the grace of which we sing—the grace that leads us home.
The promise of life eternal stretches our faith and calls us to acts of imaginative hope. In thinking about eternal life, C.S. Lewis once mused that too often we are like small children who refuse to leave our little sandbox in exchange for a day at the beach.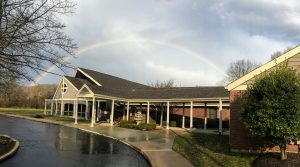 The image invites us to lift our eyes and our hearts even as the sting of death settles upon us, trusting that "in life and in death we belong to God."