By Chris Keating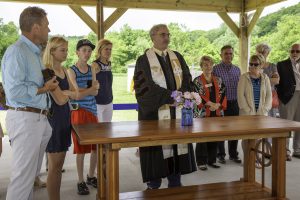 Our reading of the Book of Acts in this Easter season has challenged my thinking about the life of faith and how the church is charged to reach into the world with joy and faith. The stories of the Apostles have always intrigued me, but I will admit that sometimes the wild imagery of spirits descending, fiery tongues, exorcisms, and miraculous events can be hard to understand.
But I've kept reading, and you should too. As I have read, I learned new insights into this sometimes confusing collection of stories. I learned that Luke, who wrote Acts, used these images as a witness to the power of God unleashed in the world. I listened carefully to the story of Peter being challenged to eat with those he had considered unclean, and to the receptivity to the gift of faith by those who we'd call "spiritual, but not religious." What I've learned is that the Book of Acts has stunning relevance for the church today–miracles, exorcisms, jailbreaks and all!
Perhaps the biggest learning for me is to begin imagining how God calls the church to be in the world. Paul shows up in marketplaces and riversides, in homes and in places where people. He goes to Bread Company, to Starbucks, to the neighborhood pool. Peter speaks to people he'd been long told to avoid, persons whom his religious tradition had told him were "unclean" or unacceptable. And, more often than not, the witness the church shares is not a bold and eloquent sermon. Instead, the church simply shows up, shows interest, and shows concern.
Think of that. Each of us can do that: show up, show interest, show concern.
The church we see in Acts is a church without walls, a church that is engaged in serving the community. Too often we are afraid of talking about "coming to church" to our friends for fear of how they'll receive that message. But what if we took the church to the world? How can we continue to become a church without walls?
The gift of our pavilion, I believe, is one way we can do that. What if we offered outdoor "twilight" worship in informal gatherings? Could the pavilion be a meeting place for those who have a lot of questions about God but aren't sure they would come on Sunday mornings? What if we held community open houses with food and beverages and games? What ideas do you have for using the Family Pavilion? Email and let me know! I'm proposing a Woodlawn Chapel men's steak cookout — could that be a time of invitation to friends and neighbors?
There are other ways our church acts beyond its walls. The Coupon Club is one example, along with our other mission events. Did you know that there is a small group praying and thinking about planning an adult mission trip to help with Presbyterian Disaster Assistance? So many are hurting from devastating storms. We'd like to go this fall–details are still emerging–and the experience would be open to anyone who is interested. You don't need special skills; you just need to go.
Show up. Show interest. Show concern.
That is our calling. Let's make it happen!