Alleluia! The Lord is risen, indeed!
Join us at Woodlawn Chapel Presbyterian Church for a joyful Easter service, 9:30 a.m. on Sunday, April 21, 2019.
On Sunday, May 5, Chris Keating begins a new sermon series, "How many Presbyterians does it take to change a light bulb?"
Change is hard, and sometimes we resist. We even joke about it! But the Acts of the Apostles offers many stories of how the disciples and the church were on the move, changing their ways of thinking, believing, and acting in an ever-changing world. What had changed? Jesus rose from the tomb and then called the apostles to follow. Centuries later, we're still trying to figure out what "change" means. Chris' sermons will explore the ways God calls us to be part of an ever-changing world!
Sunday, May 5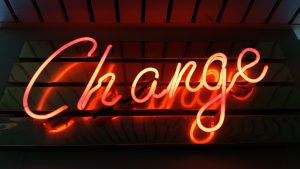 – #1 "Are we ready for change?"
Sunday, May 12 #2 "Healing change"
Sunday, May 19 #3 "When change is difficult" (Confirmation Sunday)
Sunday, May 26, 2019 #4 "When God changes us" (Pavilion Worship, weather permitting)